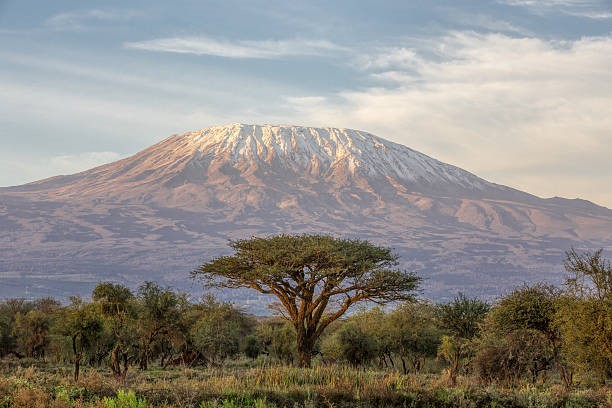 This last month I was able to accomplish a climb on a mountain in Tanzania Africa. It was what some would call an obsession, a disturbing preoccupation with Kilimanjaro that has been put off over the last few years: first by a world-wide lockdown with Covid, then having to push it out another year after tests showed that my heart after Covid was not quite ready.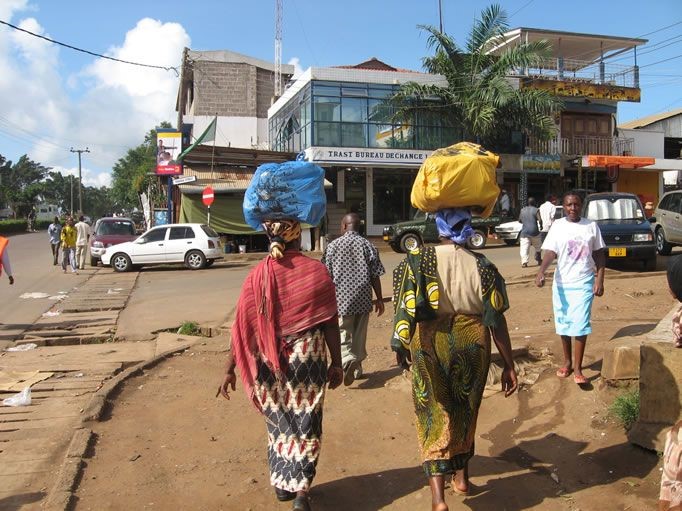 After 2 days of flying, I found myself in the middle of Moshi, Tanzania – a little town that exists primarily because of Kilimanjaro and is now the gateway to my dream. I met with the guides and my climbing mates – four from the UK, one from San Francisco and the rest from the Midwest and east coast. We nervously listened to them explain the climbing plan and the most important rules: Eat well as you will not feel hungry higher on the mountain, drink lots of water, and the most important, "Pole-Pole" which means "slow-slow". By letting your body acclimate slowly and conserving energy when you can, you are increasing your chances of success.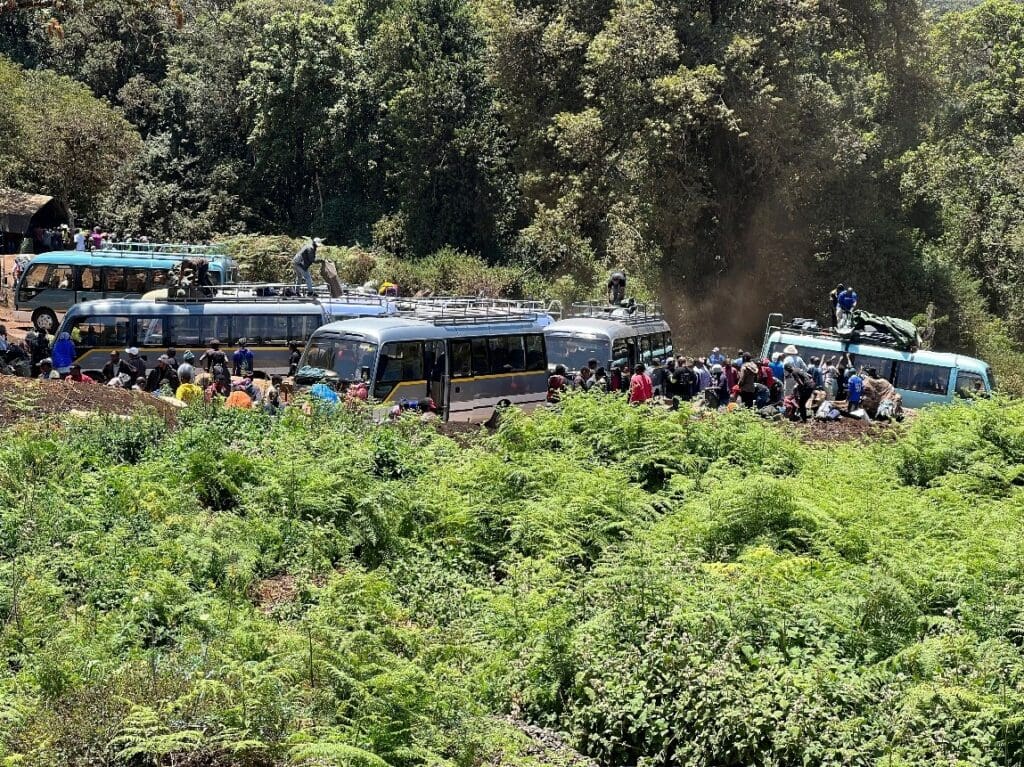 On October 3rd we found ourselves at the Londorossi Gate at 7,742 ft., a beehive of activity as many of the Kilimanjaro climbs begin here. We found ourselves moving up the path "Pole-Pole" for the next 4 miles through warm moist jungle, spotting some skunk moneys and named that way due to their long black and white manes, and caught fleeting glimpses of others, too quick for us to identify.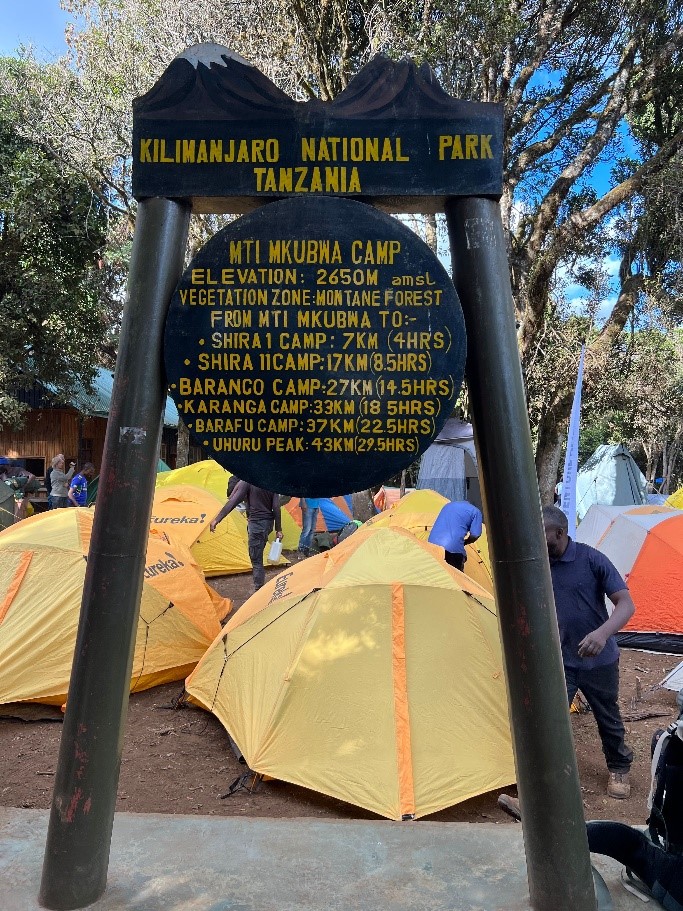 I'm not sure what I expected at the MT Mkubwa camp at 9,500 ft. that day, but what greeted me were LOTS of PEOPLE! Tents everywhere, groups everywhere. It was explained that in addition to pent up demand due to Covid, October is a GREAT time to climb. I admit, I felt myself droop a little bit. What happened to my dreams and quest to come here, into the great wild and push myself against the mountain? There's no answer of course, because I was like the others, each claiming a spot, each with a hope of success. Get over it, keep your focus on what you're doing, not what others are doing. I found this became a mantra for me – I like my fellow climbers and making new friends, but my primary goal was to pay attention to what I was doing. How do I feel? Have I eaten well enough? Water? Feet? Body? What will increase my chances of success today? This hour, this moment?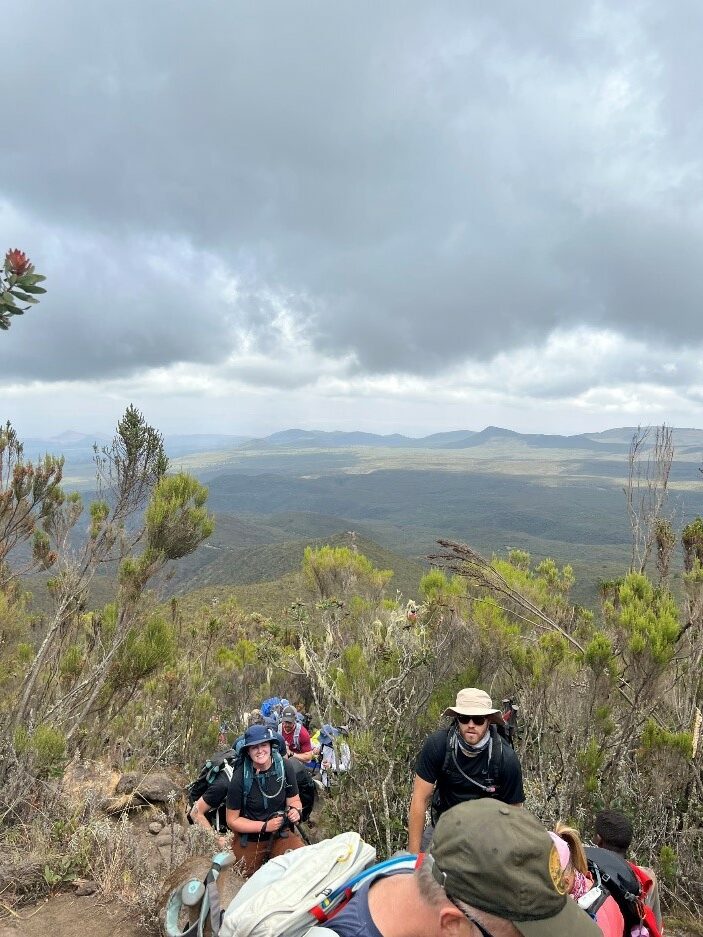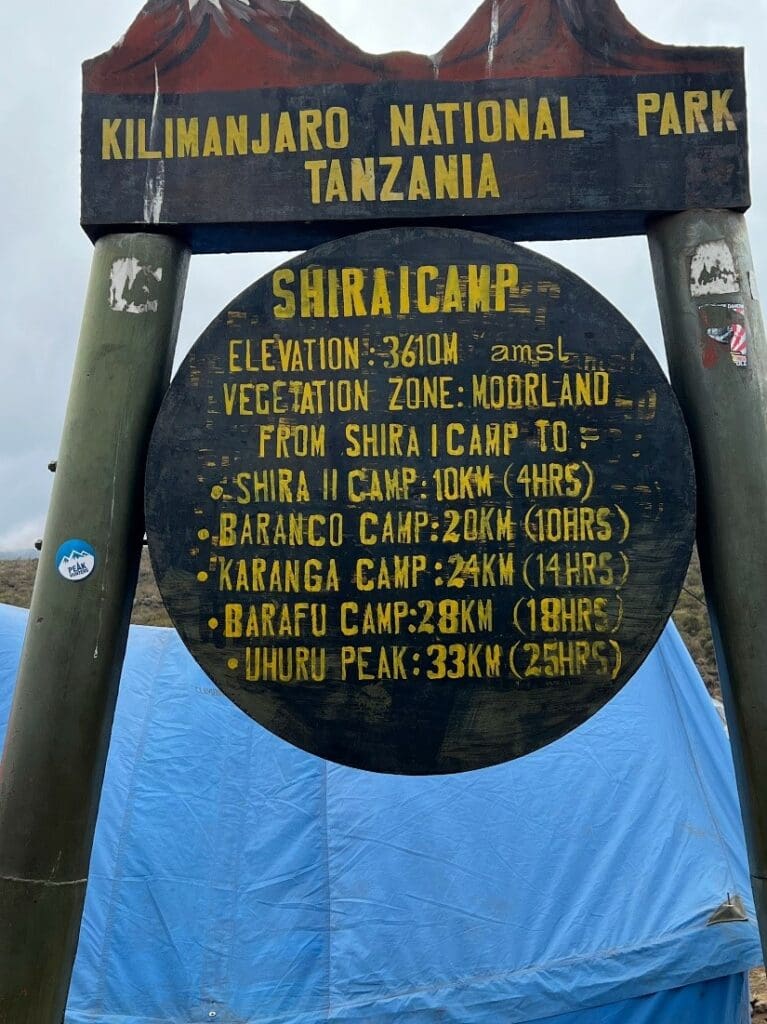 And so it went, as we went higher, day 3 at Shira 1 Camp at 11,500 ft., then day 4 first at Moir Hut at 13,580 ft. then a big push that afternoon to Lava Tower for our first big intraday acclimatization at 15,190. Snow at Lava Tower reminded us that yes indeed this isn't a layup and after a few hours we proceeded down to Barranco Camp at 13,044. It was no longer a trek up the mountain with some new friends, it became a serious venture. Notice how they point out not just the KM but the hours?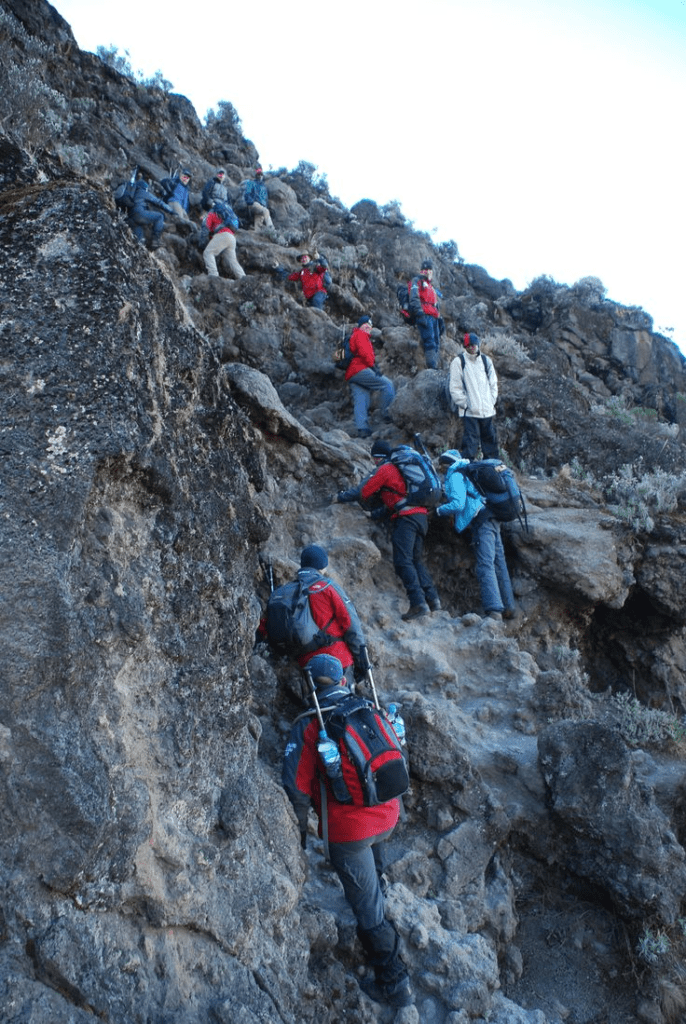 From Barranco Camp we traveled via the Barranco Wall on day 5 – the Death Wall (not really, but it is intimidating) on our way to Karanga Camp at 13,106 ft. Barranco Wall is 843 ft. high and is what climbers refer to as a "scramble", meaning no ropes but move quickly and carefully. It's a little dicey, wide enough for one person at a time, and on the most difficult part, you are hugging the wall with your face scrunched up to it. It's known as the Kissing Rock, but please I'd rather get my germs somewhere else. This brings up the question: If this is a single file trail, what if someone is coming down?
The answer of course is simple and efficient. The trails on Kilimanjaro are "up trails" for those going up, or "down trails" for those going down. Africans are nothing if not efficient in their foot travel.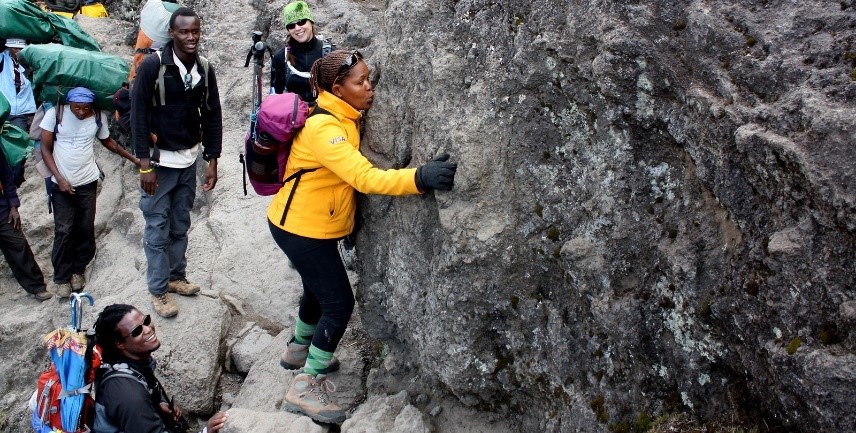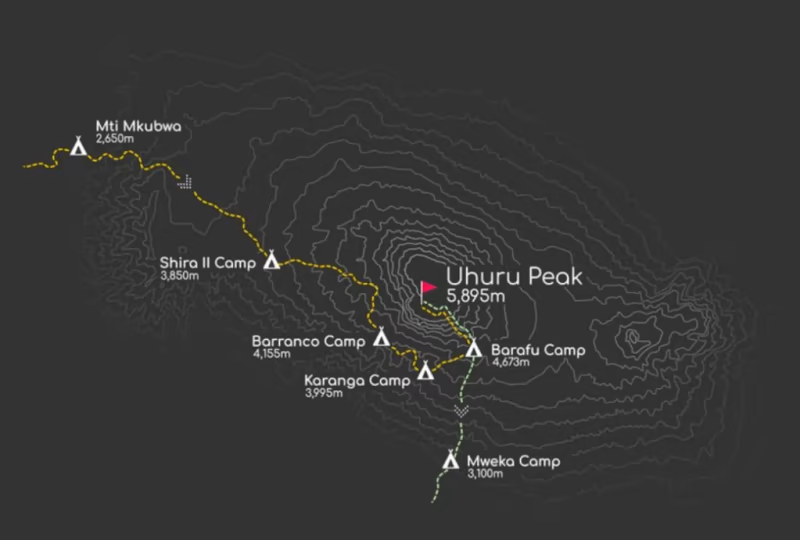 Day 6 is the big one – we move from Karanga to Upper Barafu, a 3,000 ft. increase to our last camp before the summit. It's a 5-hour day that covers just 4 miles and with Kilimanjaro creating its own weather, we are now well above the clouds. There are a few other peaks and rock formations that can also be spotted like Mount Meru. This afternoon and evening are our last chances to rest and reflect before we arise at 11:30 pm and start our assent. We had hiked 2 ½ miles that day and will add another 3 to the peak, plus 3,000 in altitude. No worries, right? Midnight came and we set off in a single line, headlamps shining ahead and when looking back it was a wonderful snake of light following us up the mountain. A new term was introduced by our guides: VERY Pole Pole, one foot in front of the other, managing our breath which was now becoming harder. Rest stops not nearly often enough, pushing, determination to make this day count.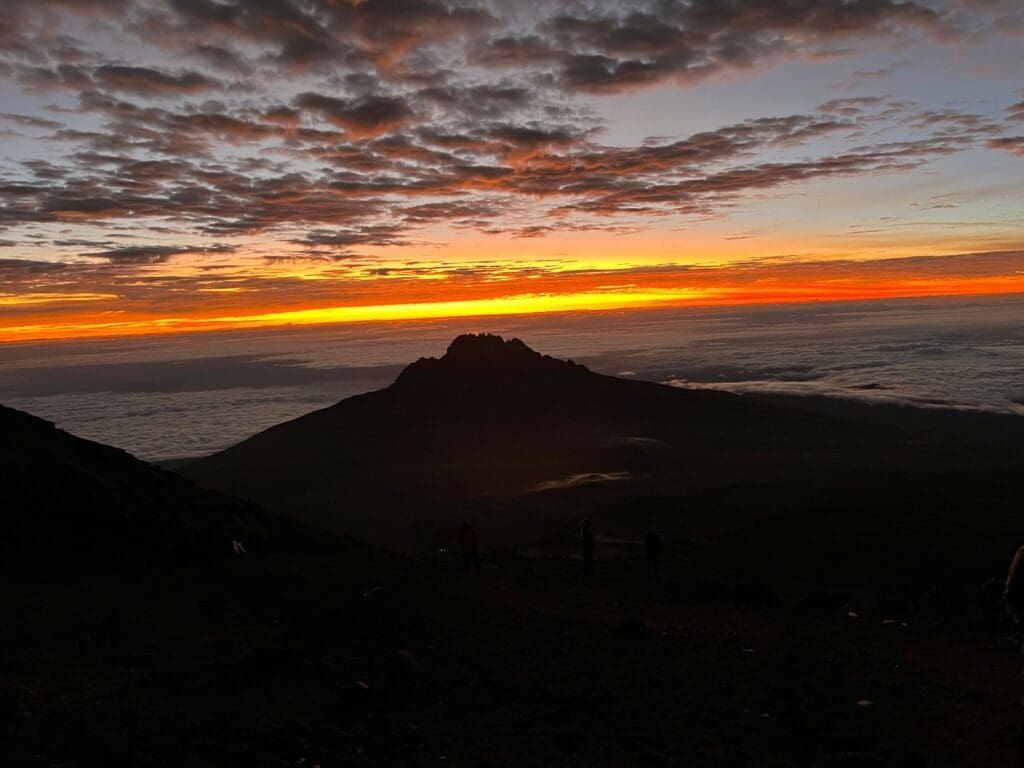 6:30 came and suddenly there was a hush – the sunrise was flooding over the floor of Africa. The intense red light was everywhere as we stared in disbelief. The night nearly over, we must be close, but we're not there yet. In the next hour we continued our labored climb over the dirt path until we could make out a gate ahead – we must be there. My excitement and adrenaline surged giving me new hope that this was the top, the end. Nope. It was Stella Point, 18,885 and is only one of the peaks at Kili, but not THE Uhuru peak at 19,341 ft. I thought about it briefly before I heard my guide Andrew say: "Pole Pole, keep going. We're going to the top". Turning a corner into the wind, I slowly wound myself up the trail.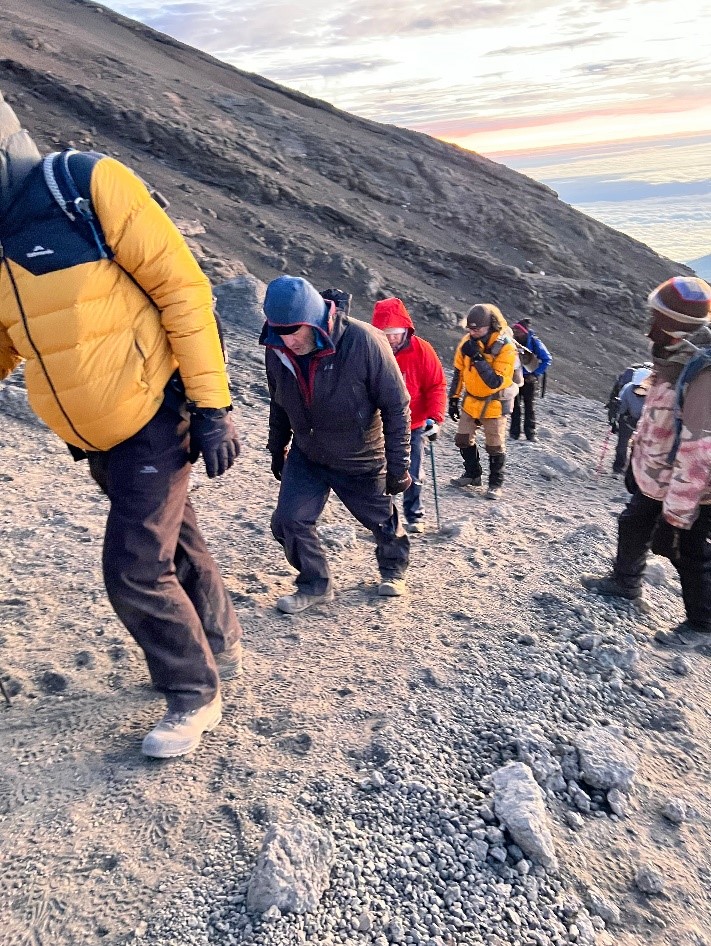 The Uhuru gate was maybe 200 yards and a lifetime away. Stopping every 30 yards to catch my breath was now a habit and with it came a bit of despair – how can I ever get there? At this point I have to say that the guides we had were everything we needed. They urged us on, rubbing our backs and shouting encouragement. With maybe 50 feet to go, one of them grabbed my hand and we walked together to the peak. The relief was immense, and any pain and tiredness disappeared even though there was a sense that this would be fleeting. The air at that level is about 50% the concentration that it is at sea level and all our bodies let us know that we would not be there long. Pictures, hugs, and cheers all around and it was time to go.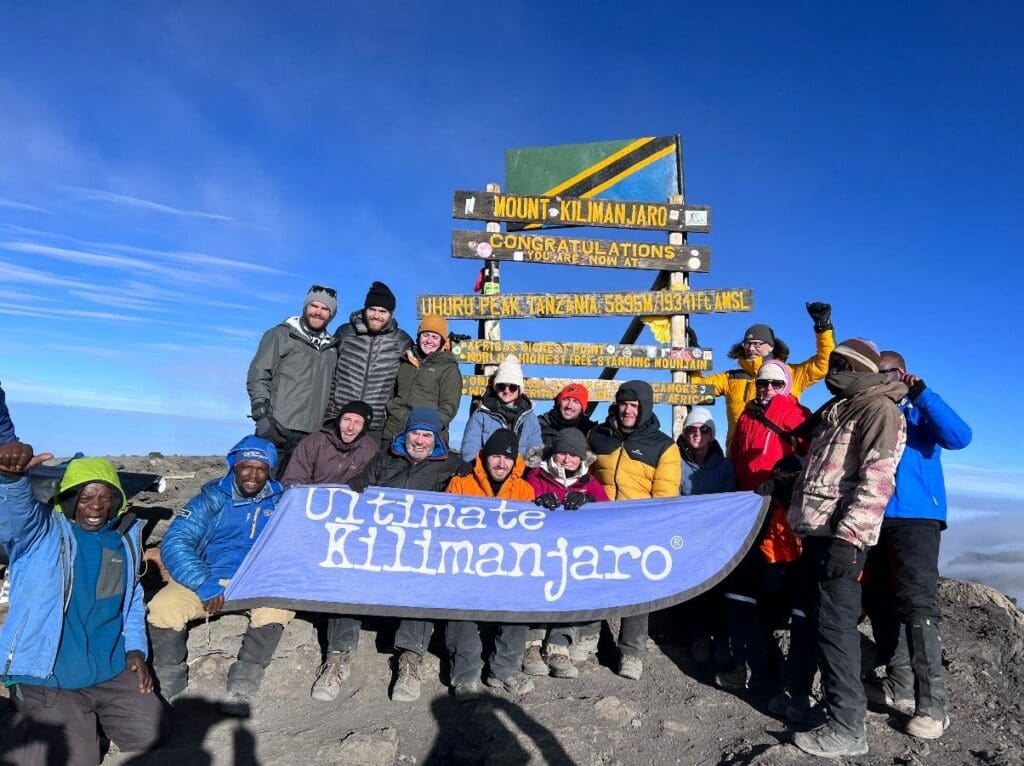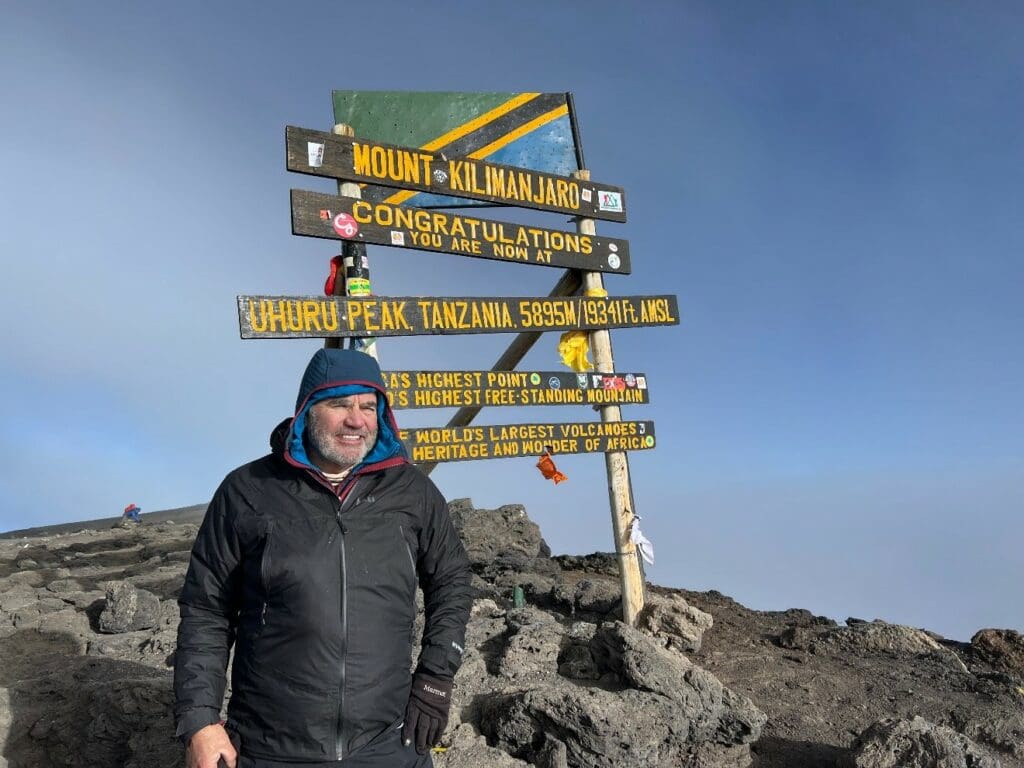 I need not tell you that the trip down was different a quick 2–3-hour trip back to upper camp, then a fast, brutal slog from there to Millennium Camp at 12,467 feet. To add it up: 3,000 feet up, plus 3,000 down to Upper Barfu camp, then 3,533 to Millennium. A total of 9,533 in altitude change with 16+ miles over 14 or so hours– quite a lot for one day! The last day to the final Mweka Gate was a blur, adding just another 6 miles and 4,500 feet to our list. A total trip of 44 miles and 25,560 ft.! Thank you, Africa!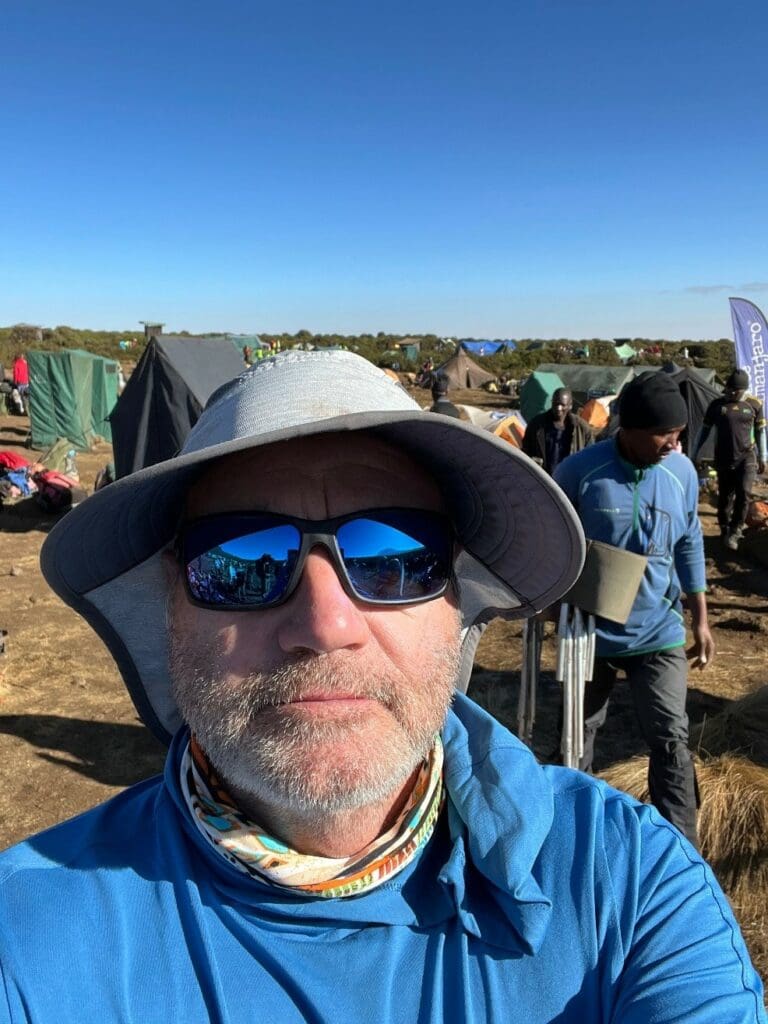 Afterthoughts
Africa and its people are amazing and when I try to think of the one or two outstanding memories, it really is impossible to pick just a few.
There was Kilimanjaro that drove me there – maybe it's a reset button from Covid, to refocus on my passions or to take some time just to disconnect. The incredible guides and people I met along the way, without whom we could never have made the assent. The care and effort they put into our success was inspiring and made me feel that we had been friends forever.
The wonderful 3-day Safari through Lake Manyara, Ngorongoro Crater, and Tarangire where we saw so many animals in the wild, as well as native tribesmen. We learned incredible things from our guides, about the animals and people – and felt very much at home, almost like we belonged there.
Lastly, the side trip to Zanzibar, island in the Indian Ocean, 22 miles off the east coast of Tanzania, with wonderful warm trade winds and beautiful beaches. It has been populated for about 20,000 years, has a long history in the trade routes of Africa and is home to many of the spices and fruits we take for granted such as cloves, cinnamon, and jackfruit. Stonetown, the name of which comes from the ornate stone houses built by Arab slavers and traders in the 19th century. With that, the history of the slave trade, where an estimated 600,000 slaves went through Stonetown between 1830 and 1863.
The unifying language, Swahili. It has been, in some form, the language of northeastern Africa for thousands of years and in the 1960s through the 1980s was promoted and is now the most recognized language outside the continent. Imagine hearing phrases and words from The Lion King daily: Hakuna Matata (no worries), Rafiki (friend) and Simba (lion), Jamba (hello). Pop onto your favorite play site and find "Jambo Bwana" – a local favorite that welcomes you to their home and celebrates success. Those who travel know that occasionally you hit the jackpot and come a place where you just may not want to leave. For me, Africa and the African people are just that – my home.